You know how football is today. Every defeat is a crisis
- Arsene Wenger on Saturday
Arsene Wenger and Arsenal were supposedly in crisis six weeks ago. With pressure and discontent building through last season and the summer, the dire opening day defeat to Aston Villa was viewed as the final straw for many. That's it now, he's taken that club as far as he can and change is needed. Now. Since that day, Arsenal have won nine games in a row and sit at the top of the Premier League.
Steve Lomas was the devil reincarnated at Millwall. Winless in the opening six league games, the 5-1 thrashing at home to Derby was seen to be the straw that broke the camel's back. Along with his West Ham connections, he was viewed by our mouth-frothing neighbours as being the most clueless manager in their history. Three games and three victories on, they are settled and organised. The crisis is no more.
It is very easy to pick out examples such as the above when looking to make a specific point to back an argument. Of course, every situation is different and there can be no generic 'model of approach'. But the point I'm trying to make is that there are very few bad, clueless managers in the game. They all come from a long background in football, have been on the same courses, would have worked under a wealth of different managers styles and systems. In the short-term, managing people is the main bridge to cross, and in the long-term, an eye for a player and the ability to get individuals playing as a cohesive, committed unit keeps you progressing.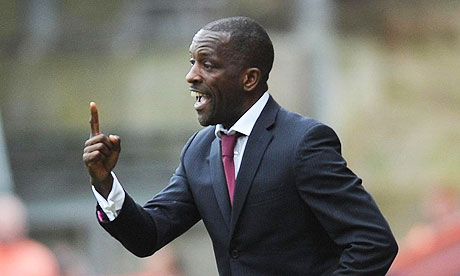 Since Day One, and in every single day since, those of us involved behind the scenes at Charlton Life have thrown 100% support behind Chris Powell. To some, showing such support is viewed as pathetic, bizarre, and a weakness. The reason we so whole-heartedly have backed our man is because he has deserved that loyalty, and that we are realistic enough to know that managerial perfection is ridiculously unlikely in League One and the Championship of English football.
We expect him to occasionally pick what proves to be the wrong players, or the wrong formation, we expect that sometimes he'll be too late making substitutions, or making the incorrect subs. We expect that, because we would expect that off every single other manager.
People's demands and expectations have changed beyond comprehension in the past 10-20 years. 24-hr news, social media and technology in general mean people now demand and can fulfil instant gratification. People won't wait 5 seconds for a web page to download when 10 years ago they would happily have waited 30 seconds. 20% will already clicked away already by the end of the article, 50% won't have finished it because 1,300 words are too much for to read nowadays.
Football is no different; a crisis can be formed within a week, and with multiple social media outlets at the shock-jocks disposal, it never takes long for the negative bus to ride into town. Some people have been calling for Chris Powell to be sacked in three of his four managerial season's with the club.
We don't see Chris Powell as perfect, far from it. Nor are we blind to his faults and failures. There is a clear caution-first approach to our tactics, we look lost in terms of game plan when Yann is not fit, and his demeanour has not appeared right this season. If the budget really is so tight, then giving new contracts to Hughes and Gower could be viewed as being too loyal to players he respected when real improvement was needed in the centre of the pitch. Additionally, yet another dire and flat Millwall performance (on the back of a run of disappointing derby performances last term) is a huge black mark against a manager who should know this club better than everyone.
But countering that he dismantled a failing team, rebuilt (with an outlay, but not a ridiculously crazy one) a brand new squad that all bought into his mantra, played effective football in a cohesive unit, and most important of all, delivered. He then with minimal outlay, kept that squad tight enough to outperform and secure a top ten finish at a higher level when that same squad could easily have slipped into the relegation mix had it not remained so tight. Now, with what appears a major reduction in senior players and budget, it appears to possibly have been one plaster too many.
Something has not been right, not just in the last couple of games, but all season. I wrote just two games into the season of potential staleness and discontent on display. This has not appeared a happy camp since the end of last season, that is clear. Those with connections to 'people in the game' endorse the belief that there is a lot of unhappiness across the board behind the scenes at our club. We can all argue until we are blue in the face whose fault that may be, but ultimately it will do little good.
With a key international break on the horizon, three things have to happen in the short-term;
1. There should be no panic. The facts will tell you that we are not even in the relegation zone and that there are still 38 leagues games (plus our solitary FA Cup outing) still to play for this season. Additionally, the three highest-ranked outfield players from last season (Solly, Kermorgant and Cort), have been missing, alongside last season's influential captain Jackson. Those professing the direness of a situation are plain exaggerating. There are clear warning signs, but it is by no means terminal, and is has clearly not helped having four out of ten senior outfield players absent.
2. There has to some form of a pick-up. It may well not come with results in the next couple of games but there has to be a distinct fear and belief shown by those on the pitch that they are playing for their lives. Players like Hamer, Morrison and Wiggins need to rediscover form, the manager has to find the right combination in midfield, and everyone has to step up to the mark. We simply can't afford to carry anyone in the short-term.
3. The supporters continue to give everything they have once that whistle is blown to get behind whoever is representing that team in red and the manager on the sidelines. Our support has not been the poisonous backdrop some profess, it has been on the whole patient, encouraging and supportive given circumstances. Last year our crowd lifted our club out of a potential crisis on a couple of occasions. Let's make sure we provide the platform to make that possible again.
If there is no sign of improvement in the next few games, then it becomes more and more obvious that some form of change may well be necessary. Whether that will prove the fillip needed to spark the end of a slump, or it will then see us sink further on a downward spiral (a la post-Dowie), none of us know.
But for now, Powell needs that support, the team need that support. They collectively have earned it in the past and we desperately want them to come through it together.
If you are attending either or both of the next two home games, remember why you are there, remember all the good things this squad has proved in the last two years, remember what a great success and 'fit' Powell has been to our club through the last 15 years, nearly 250 playing games and nearly three years of management.
It probably won't have much influence whatsoever. But sometimes football matches and careers can be defined by the smallest of margins.
Don't ever feel ashamed to be a 'supporter'.
Come on you Addicks !!
(and thanks for making it to the end!)