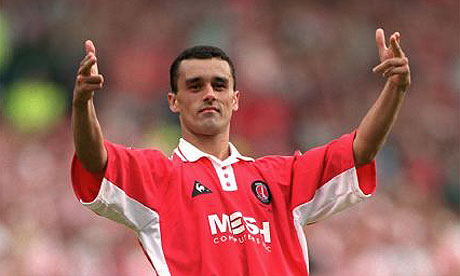 I doubt there are many articles being wrote this morning about footballers from twenty years ago who failed to make the grade. I'm pretty sure there will be even less wrote about sales and marketing managers in their mid40s at Scottish drilling companies.
But
John Hendry
did something different to the others that fall into those categories. Despite plenty of promise, in a disappointing career John rustled up just 84 professional appearances north and south of the border before cutting his career short. What should have been a huge move to Tottenham Hotspur failed to produce any noticeable achievements, bar one.
To him, I'm sure it is just viewed as his solitary goal in a five-game loan spell to Charlton in an attempt to get some games under his belt. But to those of us stood behind the goal that day on the North Bank at Upton Park (where Charlton continued their convalescence away from The Valley), it was something far more special than that. A sweet, curling right foot strike that is just as memorable 21 years on as it was the next day.
That strike proved to be the winning goal against Millwall.
Very few players in Charlton folklore can lay such claims, which is why John is still regarded as a 'hero' in a small part of South East London.
It is not an easy science to determine over time which players fall into the 'hero and legend' category, and which ones don't. There are certainly many good players that don't make it, so what is it that provides the elevation ? It could come from a ridiculous level of long service, such as B
artram, Gritt, Paddy Powell
or
Peacock
. It could come from consistent, whole-hearted endeavour, like a
Brown, Kinsella, Rufus
or a
Solly
. Or it could come from goals, like
Killer, Bent
or
Mendonca
.
All those factors are ones that were earned over time as the players put in the appearances and consistency required to stand them out from the rest.
But there is one category where a player can play the joker and fast track themselves to the cabinet without having to put in the hours on the back benches. And that is by doing something special in a big game.
John Fortune
won't be remembered too widely throughout the football world in years to come, but his goal that sent the Palace down will see him forever being remembered at The Valley or when hearing
Amarillo
.
Dennis Rommedahl
's spell with Charlton was one of frustration, a world class player failing to adapt and deliver to the standard that was anticipated. But scoring a last gasp winner at Selhurst for a televised derby overrides all that frustration.
Peter Shirtliff
's exploits at St Andrews in 1987 are still fondly remembered 26 years on, while similarly
Paul Mortimer
still brings a smile from his corner flag trickery / piss taking at the New Den in 1994. Clive became
Sir Clive
in just one afternoon at Wembley, while
Sasa
similarly stamped his membership card that day.
All these players done big things in big games. Outside of the Premiership, big games are few and far to come by. We don't do cup runs so little noticeable gets achieved there, and our derby record against Palace is poor and Millwall a positive joke.
The squad Chris Powell has compiled over the last three years has been one that supporters have very much been aligned with. The likes of
Morrison, Wiggins, Jackson, Solly and Kermorgant
have proved universally popular and have a champions season, albeit at League One, against their records.
But this squad's big game record has been mixed; in the promotion season the big games against unbeaten Huddersfield and the two Sheffield games in January were all season defining games, games we raised the bar and positively delivered. That squad didn't just have ability, it had some balls about it as well.
Last season those big games were derbies versus Palace and Millwall, and while the record will show a pathetic one point out of twelve, the most disappointing thing is there were real expectations for once that this squad had enough character about it to attack the games that mean most for supporter pride.
Sadly, particularly in the Millwall game at The Valley, we were let down. Again. We are sick, pig sick of playing second fiddle to that mob and the on-going misery it brings.
We are owed a performance and we are owed a victory, and now is the time for this crop of players to stand up and deliver.
There is a Legend cap that has been gathering dust whilst waiting for its new owner. Tomorrow is the opportunity to dust it off and place on the head of someone like Kermorgant or Jackson.
Time to deliver chaps. It will be great to write about you in 2034.