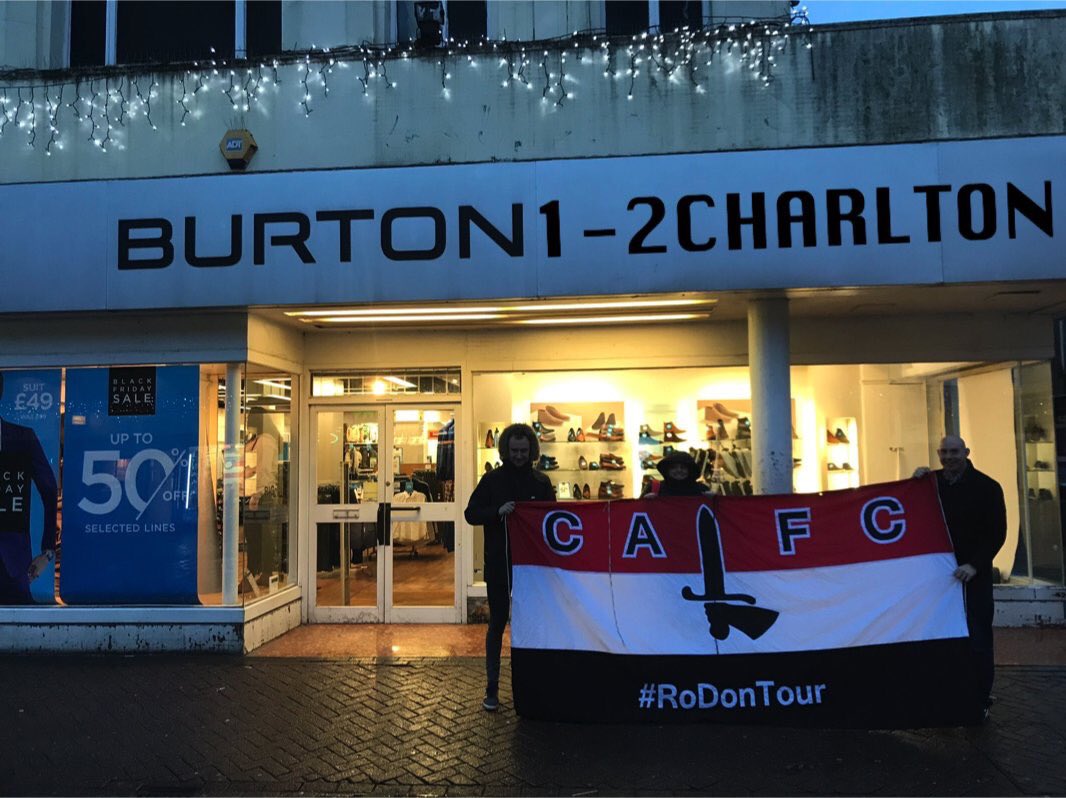 BURTON 1 (Akins 25p) CHARLTON 2 (Grant 32p, Pearce 88)
Attendance:
2,348 (approx. 600 Addicks)
Burton
Collins, Brayford, Allen, McFadzean, Fraser, Hesketh (Harness 73), Akins (c), McCrory (Sbarra 89), Quinn, Boyce, Cole (Miller 67).
Charlton
Steer, Solly, Sarr, Bauer, Pearce (c), Bielik (Ward 69), Lapslie (Dijksteel 90+2), Aribo, Fosu (Marshall 81), Grant, Taylor.
---
Summary
Daylight robbery as Charlton played second fiddle for much of the game, but rode out a poor performance before Jason Pearce nicked a winner with just a couple of mins to go. Four league wins in a row now for the Addicks.
---
Post Match comments
Bowyer
:
"That's the best three points we've won this season because those are the ones that you don't deserve. But you dig deep, fight and compete to get the three points, so I am over the moon."

"Did we deserve the three points? No. It was 100 per cent smash and grab. But there have been a lot of games where we have deserved the three points and left with nothing this season, so I'm going to take the points and run.

"These Tuesday nights are the one that get you promotion. Come the end of the season, you have to dig deep. Our lads are tired from Saturday because they put a shift in, so I told them they had to dig in and give me 100 per cent and they'll have a bit of a rest after this.

"All I ask is 100 per cent, dig in, fight and compete with each other and, again, it was a dogged team performance on a Tuesday night. That's what you need on a Tuesday night and that's what we've just done."

"Pearce is a warrior, isn't he? He's a leader and that's why he's our captain. But they all did well tonight and all put a shift in. George Lapslie was literally everywhere, even when you didn't want him to be! You just want him to keep his shape and stay in position, but he was everywhere! Jed Steer was outstanding. I thought he was excellent and some of the saves he made were very good."


---
STATBANK Player Marks
Steer = 7.86
Pearce = 7.77
Bauer = 7.30
Sarr = 7.02
Solly = 6.64
Grant = 6.41
Lapslie = 6.32
Aribo = 6.27
Taylor = 6.23
Bielik = 5.
Fosu = 5.18
Team Average = 6.57
---
At the game...
@RedChaser
:
Despite the horrible weather for most of the day it relented a couple of hours before kick off and the pitch held up well. No doubt like most of the travelling faithfull my first visit to the modern Pirelli stadium with its three identical stands just 15 rows deep and the larger main stand housing all the corporate stuff.

Burton were in the ascendancy from the off as we seemed to struggle to get a foothold to create something. Midfield offered little protection to a solid back line who were tested to the max as the evening wore on. It seemed like a yellow knife through jam through the centre until they got to the lumpy bits in the shape of the BFG and Captain Fantastic.

Our full backs were on the back foot but Sarr stuck to his guns with block after block as did Solly albeit in reverse gear too much for my liking. Lapslie was his usual energetic self as was Aribo. Bielik is no Cullen at the base but stuck at it. Fosu struggled to impose himself and create something for the front two who fed on scraps nearly all night.

Burton are no mugs and showed no ill effects of their injury ravaged squad or the beating up at Blackpool on Saturday. Their league position on this showing is completely false. A good footballing side from front to back who play fast possession football.

Enter the referee (we always get sh1t refs) he only needed a yellow top to go with his black shorts! Every decision seemed to go for the home team in the opening half hour despite similar offences against us being ignored. And then to cap it all he gives a pen to the angst of the away support who let him know about his obvious sexual pleasures; 0-1 to the Brewers.

We seemed spurred on for a while and countered with Grant being upended and blow me the ref only gave us a pen must've been a pang of concience! Taylor to take? No! Up stepped Grant to just squeeze it inside the the post; phew 1-1 and HT.

Second period was a bit better from us but the back line still bore the brunt of Albion's attacking play. Corner after corner and balls forward dealt with admirably and when on target Steer saved well. Our one glorious chance fell to Lapslie who again from 8 yards failed to convert. How his boss would have licked his lips at that chance on a plate.

The longer the game went on the more accepting I became for a point but all the time you are hoping to nick one. And so it came to pass with a rare corner taken by Ward, on for Bielik, drilled to the crowded penalty spot. Too many bodies to see who flicked it on but Pearce was there at the far stick to force it home to send the larger than normal midweek away following, up northish (great support all night), into raptures.

Classic smash and grab we'll play better and lose and Burton will play worse and win but that's football folks. Winning games like this are crucial if you want promotion GET IN THERE!
---
Matchday Links
Preview
Match Thread
Post Match Views
Player Marks Thread
Statbank
---
Return to 2018/19 fixtures
HERE
(Photo credit: Louis Mendez)