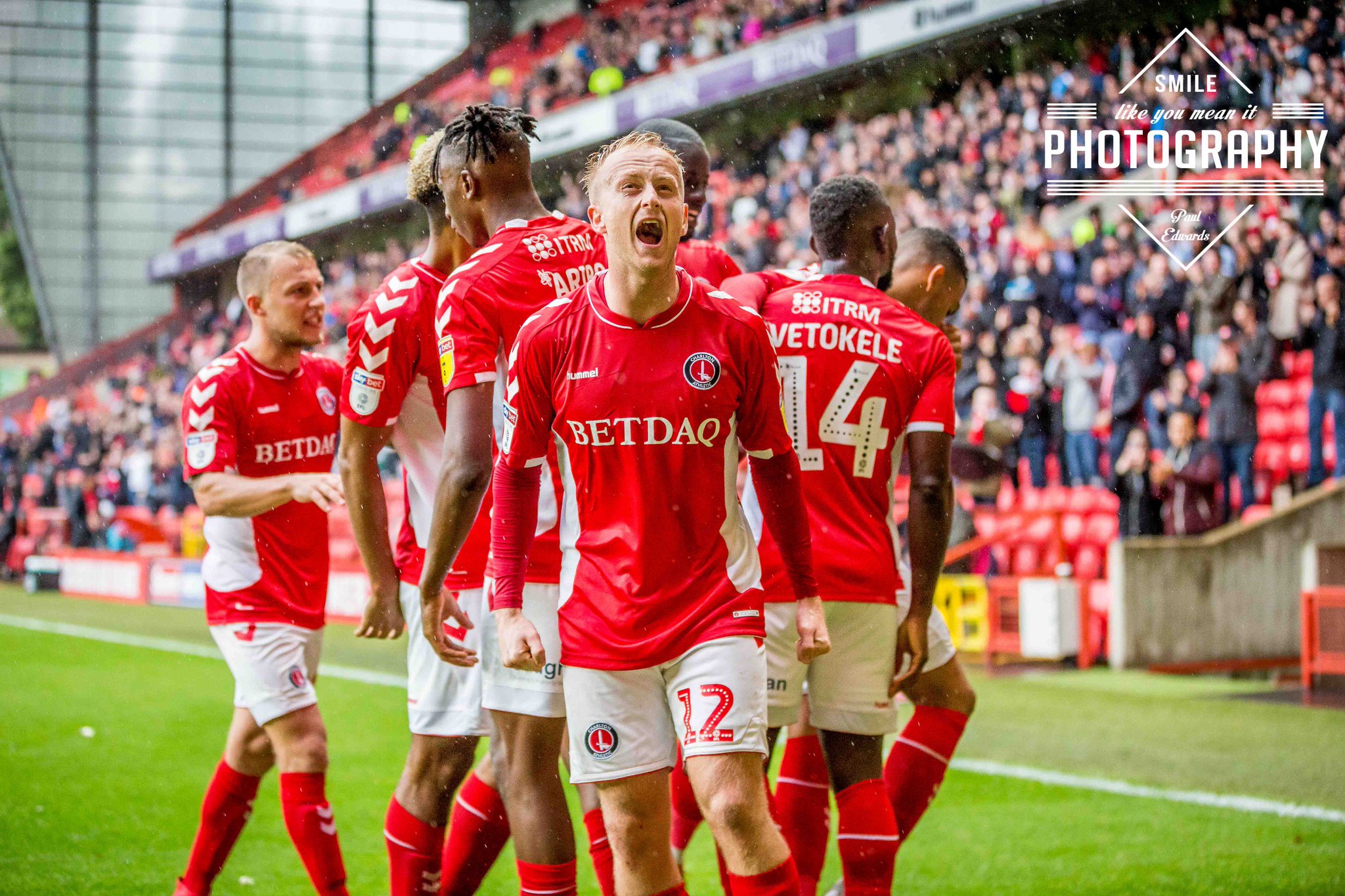 CHARLTON 2 (Grant 12, 88) PLYMOUTH 1 (Carey 9)
Attendance:
10,818 (1,013 Plymouth)
Charlton
Steer; Solly, Pearce (C), Sarr, Page; Cullen, Aribo, Reeves, Ward (Vetokele 81); Grant, Taylor.
Plymouth
Macey, Sawyer (C) (Wylde 46), Songo'o, Edwards, Sarcevic (Fox 54), Carey, Lameiras, J Grant, Ladapo, Smith-Brown, Wootton (P Grant 38).
---
Summary
Another cracking game at The Valley. For the second home much in succession, Charlton come from behind to secure a victory. Despite having all the early running, Charlton fell behind as Carey outjumped Lewis Page to head into the bottom corner. But the Addicks fought back, and despite Lyle Taylor having a penalty saved, secured the win with a double from Karlan Grant, the later coming just two minutes from time when it looked like a harsh draw was likely to be the outcome, sending the home crowd ecstatic.

Four in a row for the rising reds, who are now up to sixth.
---
Post Match comments
Bowyer
:
"I think we were outstanding today, (I was pleased with) the way we moved the ball and created as many chances as we did from start to finish. You have got to understand when the crowd get a bit edgy at times in the last 10 minutes it is easy just to lump it forward but they just kept playing and playing and playing and they got rewarded."

"Should we have scored more goals? Yeah, of course we should of but the most important thing for me is that we got the three points. We've got four on the bounce now and we've just got to keep taking these wins and keep moving up the table and keep the belief going because they are in a very good place at the moment. I said to them before the game All I ask is that when you walk in here and sit-down after the game, you can look at your mate either side and say "I gave you everything today" and I said (after the game) "You can definitely all do that" and that's why I think they won the game because they just kept going and going and going. They wouldn't give in."

"We have to keep winning because others are winning. We can't let a gap get too big, so we have to keep winning games and we see where we are at the end of the season."

---
STATBANK Player Marks
Grant = 7.60
Aribo = 7.58
Reeves = 7.45
Taylor = 7.37
Pearce = 7.15
Cullen = 6.93
Solly = 6.78
Sarr = 6.62
Page = 6.60
Ward = 6.43
Steer = 6.41
Team Average = 6.99
---
At the game...
@Blucher
:
An entertaining and high quality game against opponents who belied their league position.

I thought we played some excellent football in the first half, with intricate combination play repeatedly stretching Plymouth. The final ball was not quite right on a number of occasions but, compared to the last two seasons under Slade and Robinson, the attacking play was at times scintillating. The penalty miss just before half time changed the dynamic in the second half and encouraged some hugely irritating time wasting from their keeper (as to which, it was good to see Jamie Ward continually in the referee's ear about that, eventually encouraging the ref to issuing the goalie with a pre-booking warning. A small example of the benefit of having experience in the side).

Probably amazed that they were still on level terms and perhaps believing it could finally be their day, Plymouth gave it a good go in the second half. I thought they had the better of the game for a spell before we reasserted ourselves and Reeves, who might have been a candidate for replacement by George Lapslie, took control of the game and started eviscerating Plymouth with his passing range and vision. Given the havoc he was wreaking towards the end, I was surprised that the opponents gave him so much room but I think that was a reflection of two factors: first, his ability to find pockets of space and, secondly, fatigue on the part of their players, especially some of their big old, muscle-bound units. We kept moving the ball quickly and eventually the pressure told for a thoroughly deserved three points.

Notwithstanding the amount of possession we enjoyed and our number of corners and attempts on goal, we still managed to look vulnerable at the back. It's not easy to fathom why. Certainly Patrick Bauer is a very accomplished defender and his partnership with Pearce is as good as any in the division, although I thought that Naby Sarr did pretty well overall. I suspect that part of the answer may be a shortage of defensive protection in front of the back four as a result of playing a very attacking formation, with Ward and Reeves playing offensive roles and Joe Aribo being forced to sit deeper than usual with Josh Cullen. Plenty to work on, although Bowyer and Jacko doubtless figured (correctly) that the benefits of the system outweighed the risks.

In addition to Reeves, Aribo had a brilliant first half (one amazing run from the edge of his own area) and when he faded in the second, his teammates took up the slack. Ward was also very good until he understandably tired near the end - a clever and streetwise player with nous, who I think will do well for us. I was also very impressed again with Lyle Taylor, who held the ball up well and repeatedly spun away from defenders. What I particularly liked was his refusal to let the penalty miss affect him - good strikers just get on with it and believe they'll put the next chance away.

A late winner is always hard to top and the fact that the ref only added on 3 minutes, despite the stoppages and the repeated time wasting was pure poetic justice.
---
Matchday Links
Preview
Match Thread
Post Match Views
Player Marks Thread
Statbank
---
Return to 2018/19 fixtures
HERE
(Photo credit: @pedwards72 on twitter)