Ahead of Saturday's top of the table clash, our thanks go to Oldham fan
Dave Butterworth
for sparing his time and giving us the lowdown on the Latics.
---
Dave, two out of two and a top of the table clash. Has the strong start to the season come as a surprise to Oldham fans ?
Before the start of pre-season the answer would have been a definite 'yes', given that we haven't changed the squad that failed miserably last season. But a marked improvement in pre-season - beating Wigan and Bolton, the latter convincingly, brought a new found sense of optimism. Given who we have played Tranmere (one of my tips to go down) and Notts County (who looked woeful) and the fairly good pre season we had, the excellent start now doesn't seem to have come as much of a surprise.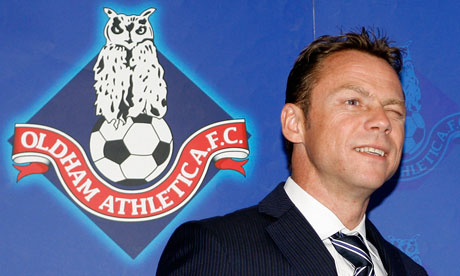 The appointment of Paul Dickov seemed to come out of left field. What were fans initial reactions to the appointment ? Has opinion changed in the short time since ?
Initial opinions varied; most seemed to be in favour, as most of our "experienced" choices of managers in recent times have been flops (Brian Talbot, Dave Penney and maybe a little harshly, Ronnie Moore, who despite leading us to 9th place was sacked), whilst the inexperienced managers Iain Dowie & John Sheridan have both led us to the play-offs. To some people Dickov appeared the right choice, as he would bring fresh ideas to the table.
On the other hand some were disappointed, saying we had gone for the cheap option and an inexperienced manager was a gamble given how poor the team had looked last season. Given how we have started, and the "easy on the eye" passing & attacking football we have played so far, these opinions have obviously already begun to change.
You mention last season being a disappointing one for Oldham, avoiding relegation by just two points. Has there been much player upheaval over the summer ? Who has impressed in the opening games ?
It was an awful season, but surprisingly only 1 player from last season's squad (Joe Colbeck) has departed. We have around six players on the transfer list but have found no one stupid enough to take them off our hands!
So far our two central midfielders have impressed the most. Dale Stephens scored both our goals in the Tranmere game, and he is comfortable on the ball, a box to box midfielder and looks like he can score a fair few from midfield. Thankfully he's signed a new 3 year deal as he's surely destined for bigger things. Partnering him is Dean Furman, who signed from Rangers last season. He was a big disappointment, rarely moving out of the centre circle and poor in possession. However, this season he's already got a goal and looks a completely different player now that he has license to get forward.
Can the strong start to the season be sustained ? Has it changed expectations already ? What realistically will be considered a good season for Oldham ?
To the fickle bunch in our fanbase, the good start has changed expectations with some now believing we can make the play-offs. Sustaining this good start will obviously depends on luck with injuries and suspensions, the main worry is our squad is in the main young and raw. Consistency will be the major issue. In my opinion, a good season will be a finish somewhere between 12-14th. If Dave Penney was still here that prediction would be something like 20-24th!
There were a number of boardroom resignations during the summer, what was the story behind that ? Have things settled down now off the pitch ?
Two of the three businessmen (Three Americans known as the Three Amigos) who saved us from going bump in 2003 have now pulled out, the reasons I still don't think are known. Sadly these two were apparently the money men out of the three, so the club is working on a radically reduced budget at the moment. We are apparently safe for this season money wise as the old chairman Simon Blitz gave us a loan of £500k to see us through. Its next season when the brown stuff will more than likely hit the fan, when the money runs out and they may want some of this loan paying back. How accurate this is I'm not too sure however !
'Trust Oldham' is one of the few Supporters Trust's that hold an actual stake in the club. How well has this worked over the past seven years ? Is the ST well supported by the wider fanbase ?
During 2003 when we were close to going out of existence the fans raised around £250,000. This was then used to buy about a 3% stake in the club, when the Three Amigos saved us. Where this money has gone to, or gone towards i'm not too sure. The fan on the board is a director and in my opinion, struggles to differentiate being a fan, and being a 'yes man' in the boardroom. This has brought a few problems as some fans feel he isn't fighting our corner enough in the boardroom. The support for the Trust started off well, but these days it doesn't seem too popular. Most do not seem to agree with the lead person who represents us on the board, and secondly some do not even know how to join the trust! So spreading the word seems to be a big problem.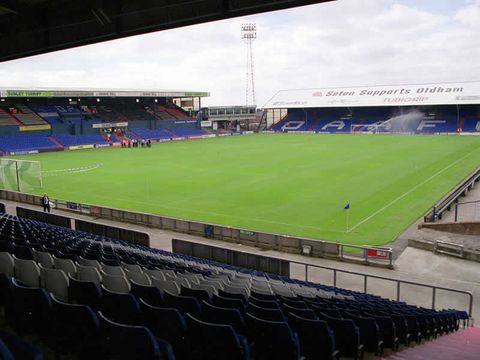 Boundary Park is renowned as being 'the coldest ground in the country' ? Are plans to move to a new ground still on track ? What are the plans for the new ground ?
Oldham is always cold! The plans are to move to a new 12k capacity stadium in Failsworth - a part of Oldham not far from the centre of Manchester. The plans include a cinema, apartments, and banqueting facilities etc to help the club become self-sufficient. At the moment, it's all still at the planning stage. Given that Boundary Park is already a three-sided wreck, with houses already being built behind the home end, it seems our future fully rests on these plans. It really is Failsworth or bust, so hopefully the plans are accepted soon!
How hard is it for Oldham to survive and prosper living in the shadows of the two big Manchester clubs ?
Just as hard as any lower league club, but times are becoming a little tougher now that Manchester City are also trying to build a successful side. Also ticket prices at City are only a few pounds higher than ours. Trying to attract young/new fans to Oldham is becoming more and more difficult.
People forget that Oldham were a founding member of the Premier League. Can you ever see a return to those days ?
Chances of returning to that are slim to nil ! The financial gap between the Premier League and the rest is now huge, which makes Blackpool's achievement all the more remarkable (they were playing us in a League One play-offs only four years ago)
As an opposing fan, what is your knowledge and views of Charlton as a club ?
Friendly club, fairly well supported. All went downhill when Curbishley left. Replacing him was always going to be a tough one. Sadly it never worked out with most after him. Always remember Clive Mendonca, and for some reason Shaun Bartlett scoring a screamer of a volley in a home game in the Premier League.
How do you expect Charlton to do this season ? Who do you feel are likely to fill the automatic and play-off spots ?
Charlton will be up there, don't think the squad is good enough for automatic - your best chance was last season when you had the likes of Shelvey & Bailey. But certainly expect you in the playoffs. I think Southampton and Sheffield Wednesday will go up automatically, with the playoffs being filled with Charlton, Huddersfield, Brighton and Peterborough.
12. How do you see Saturday's game going ?
I feel we're going to be on the wrong end of a 2-1 defeat. The only worrying aspect to last weeks 3-0 win was that we looked vulnerable from set pieces; our team must be the shortest in the League. I can see that being our undoing on Saturday. One thing is for sure. We will give a much better account of ourselves than we did in last season's game at The Valley.