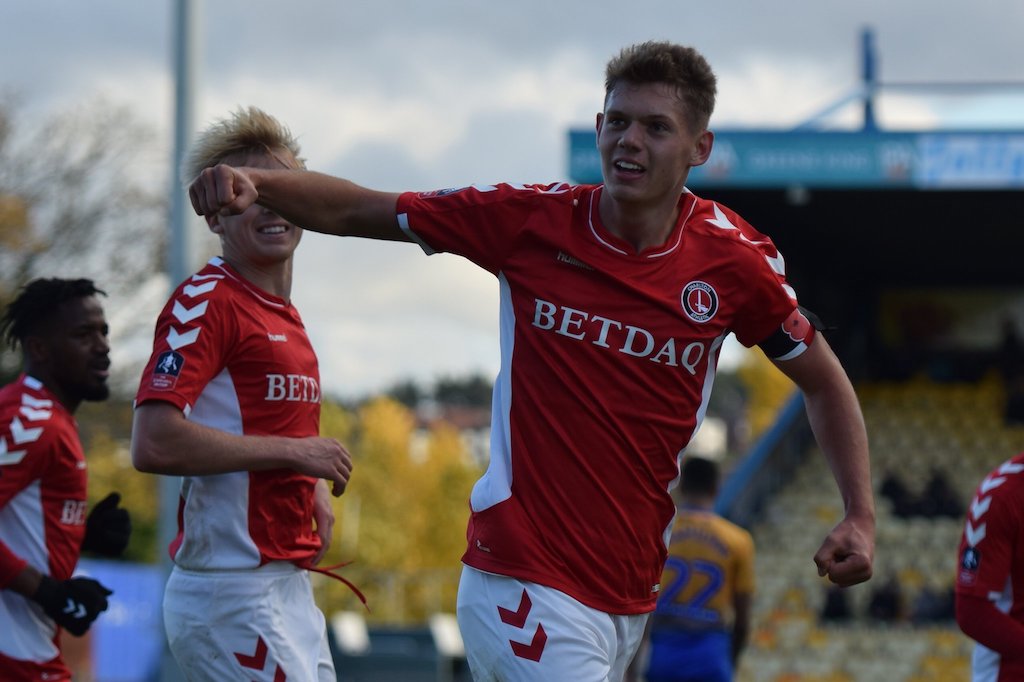 MANSFIELD 1 (Hamilton 45) CHARLTON 1 (Stevenson 73)
Attendance:
3,240 (492 Charlton)
Mansfield
Olejnik, White, Benning (Butcher 77), Preston, Pearce, Bishop, Mellis, Davies (Rose 61), Sweeney, Walker (Graham 90+4), Hamilton.
Charlton
Phillips, Dijksteel, Pratley, Sarr, Stevenson, Lapslie, Maloney (Clarke 69), Marshall, Ward (Fosu 56), Ajose (Hackett-Fairchild 76), Grant
---
Summary
Standard average performance by Charlton in the Cup, with the only surprise to normal in that we didn't actually lose. Bowyer made nine changes for the game and it showed as the time failed to gel or find any real rhythm. Mansfield took a lead just before HT, but Charlton equalised halfway through the second half as Toby Stevenson once again netted, tapping in from close range. Other positive was a return to action for Billy Clarke for the first time in 11 months.
---
Post Match comments
Bowyer
:
"It was a tough test. "They are a decent side and you can tell why they are where they are in their league. They move the ball well and they scored a good goal. For us, we were poor in the first half. Second half, we improved a little bit and we started to pass eventually but we gave the ball away so cheaply so many times and that's not like us.

"But it was a good test. There were a lot of youngsters out there, so it was good for them. Toby handled himself well – I'd say that was his first 'proper' game – and he scored again.

"The odd positive was there but I'm disappointed because the draw and the replay was the worst possible outcome, for me. Now we have a replay and them lads are having to play again on Tuesday, which is crazy. "It's our own fault, though – we should have scored three in the first half, we weren't ruthless enough in front of goal and then Nicky goes through on goal in the second half and you'd normally back him to score that."

"We aren't having much luck with injuries at the moment. Two dislocated shoulders on Tuesday; you're unlucky to get two of them in a season, let alone one game. We are running out of numbers again, so these lads need to step up. We're going to need everyone – I said that to them in the dressing room – and we're going to need them to put their names forward to me through their performances."

I have to say, I thought Anfernee Dijksteel was unbelievable. He never gave the ball away, he never got beaten. He intercepted things and everything that came into his area he stopped, no crosses went in from his side and his whole performance was exceptional."
---
STATBANK Player Marks
Dijksteel = 7.15
Sarr = 6.81
Stevenson = 6.67
Fosu = 6.42
Lapslie = 6.29
Marshall = 6.27
Phillips = 6.13
Grant = 5.94
Pratley = 5.69
Maloney = 5.19
Ward = 5.28
Ajose = 5.04
Team Average = 6.07
---
At the game...
@Lincsaddick
: we got away with this .. disappointing on the one hand that Bowyer put out a weakened team, on the other hand, good that some of the youngsters got a game …
we were 100% better when Fosu and Clarke came on .. our lightweight midfield was barely coping with a bigger faster Stags outfit .. Pratley had a terrific game and was almost running a tutorial for our callow midfield as the game went on
Stevenson got better as the game went on and after his goal he looked supremely confident.
Grant never gave up and was our main danger .. MOM performance .. Marshall coped well at r/back .. Ajose ? .. often found space and never got the service, eventually looked totally cheesed off and looked almost pleased to be taken off .. Clarke had a good run out, Sarr after a really shabby start got better as the game progressed .. Dijks a good game in the middle .. Phillips made one very good save ..
all in all though a match to forget except for our youngsters who would be pleased for the experience .. we rode our luck and got a fortunate draw .. the replay ?? .. who knows.
---
Matchday Links
Preview
Match Thread
Post Match Views
Player Marks Thread
Statbank
---
Return to 2018/19 fixtures
HERE
(Photo credit: Kyle Andrews on twitter)