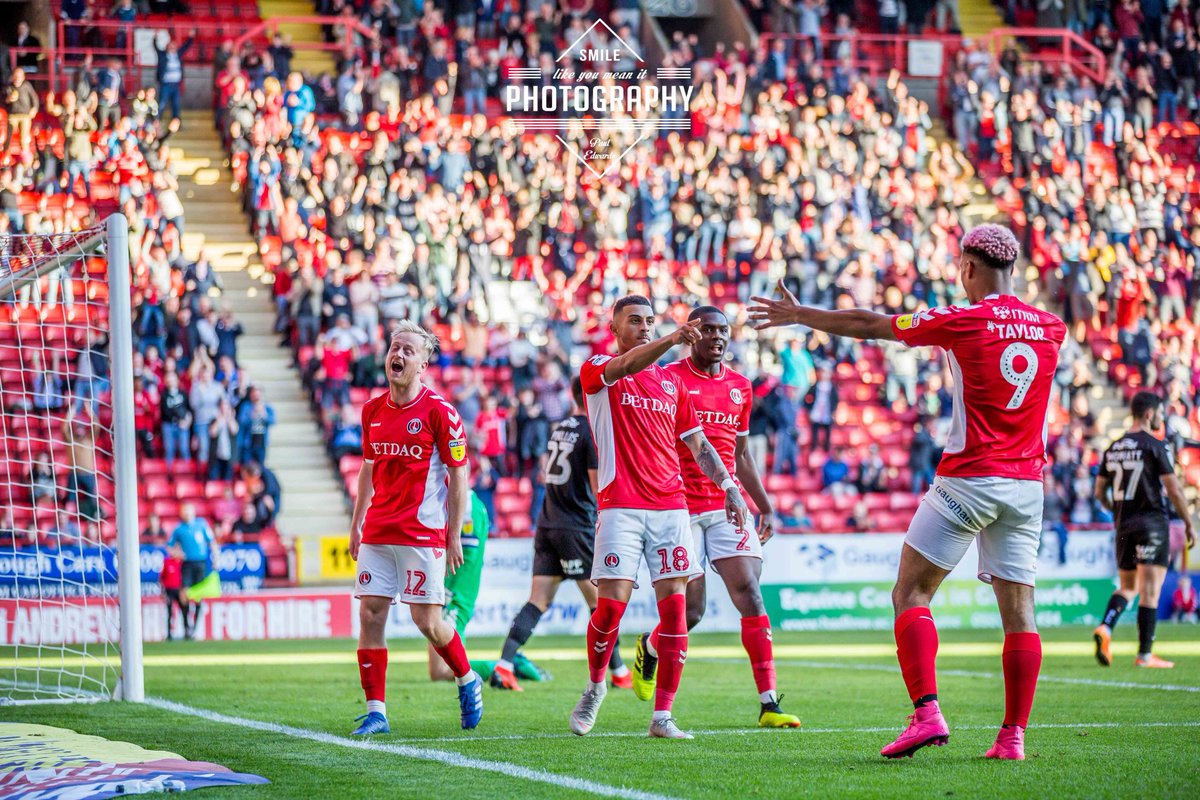 CHARLTON 2 (Grant 8, 52) BARNSLEY 0
Attendance:
12,416 (1,368 from Oop Norf)
Charlton
Steer, Dijksteel, Bielik (Sarr 82), Pearce, Solly, Cullen, Aribo, Reeves (Lapslie 74), Ward (Fosu 62), Grant, Taylor.
Barnsley
Davies (c), Dougall, Pinnock, Lindsay, McGeehan (Moore 46), Moncur (Thiam 60), Cavare, Potts, Pinillos (Hedges 60), Mowatt, Brown.
---
Summary
That's more like it. Charlton returned from the enforced international break with a return to winning ways and a performance that carried much more verve and conviction. Barnsley played good football throughout without seriously threatening the Addicks goal and strikes in each half from Karlan Grant was enough to secure the victory.
---
Post Match comments
Bowyer
:
"That's our best performance. They are the best side we've paid by far. They've scored seven goals in the last two games, we've put that to bed, we kept a clean sheet. We defended like men. It proves all our hard work, that we've been doing the last 10 days or so, isn't for nothing. I thought everyone from Jed up to the front two, Tariqe when he came on, everybody, George, it's a great team performance and if you're going to get promotion that's what you need. I just said to them 'We have everything in this dressing room', so it's great to watch, the way fight for each other. They do the dirty side, the horrible stuff because we won't let them come off it, so I think today was a very good day."

"Last season we didn't really have that competitive side to win the individual battles. Little Josh Cullen was everywhere today, Joe Aribo (was) everywhere, Reevsey (was everywhere) and then you havie Wardie (Jamie Ward), he's so clever, his experience and that's why I started him today. The four of them in the middle of the park were excellent."


---
STATBANK Player Marks
Grant = 8.08
Taylor = 8.06
Bielik = 7.68
Dijksteel = 7.60
Pearce = 7.45
Aribo = 7.38
Cullen = 7.03
Steer = 7.03
Solly = 7.00
Ward = 6.96
Reeves = 6.47
Fosu = 6.10
Team Average = 7.24
---
At the game...
@seth plum
:
Bowyer got it pretty much spot on today. he got things to a place where we played a better team but nevertheless had enough resources to win.

We maximised our strengths, minimised our weaknesses, and the work rate the players put in, exemplified by Cullen who must already have been feeling it after his international excursions, was exceptional. Mind you, Bowyer had to introduce Sarr for Belik and that turned out to be a proper tease.

Barnsley were good up to a point, but we worked so hard in negating their threat that they reached that point generally on the edge of our area, but we massed loads of bodies back most of the time. Barnsley worried us all afternoon, but in truth didn't really threaten.

Actually we might have had more goals. When their keeper was out of his goal that was a blinding controlled long range hit from Taylor that the defender did well to stop, Taylor also missed a sitter, very un Taylor like, and Reeves had two successive corners, the first seemed to go in but the very iffy ref disallowed for something.

So for all the Barnsley huff and puff, slick interplay, strength and nous, the Charlton attitude prevailed over all that, and we still have enough in us to hurt any side, and hurt Barnsley we did. Feels good after that Coventry result that's for sure.

Clean sheet for Steer, and he played pretty well, had authority in the box and distributed well, nice save from their free kick too, Djiksteel was very good, he was strong, committed and he defended well especially at crucial moments. Nice to see Belik back, and Pearce and Solly were their usual very good selves.

In midfield Aribo was the Artful Dodger in the first half, picking Barnsley pockets all over the place, not as well sustained in the second half when he played deeper, but he was fine. Cullen was great actually, terrier like in his competitiveness at times, especially when needed in the second half. Reeves and Ward were OK but only in flashes. Fosu didn't really get much ball when introduced, but Lapslie gave his usual very good take for granted contribution.

Hard to be very critical of Taylor for that miss, because as usual he got better as the game went on, and his presence and leadership qualities up front are an essential part of this current team.

I have often criticised Karlan for not using his left foot, my advice has obviously filtered through for his first goal. As I sit here remembering I am not sure who played Karlan in, but it was a fantastic spot and pass, and Karlan had plenty of time to panic, but he didn't. Great opening goal.

Karlan's second, a scoop in, came almost exactly at the same time in the second half as his first goal and we had a cushion to build the rest of the game around. No way would we have sustained a 1-0 in my opinion.

I did not expect a win today, but it certainly feels great this evening.
---
Matchday Links
Preview
Match Thread
Post Match Views
Player Marks Thread
Statbank
---
Return to 2018/19 fixtures
HERE
(Photo credit: @pedwards72 on twitter)