Last week the museum was contacted out of the blue by Phil Taylor, the great nephew of former Charlton player George Armitage, offering us one of his England Caps.
Yesterday, by coincidence on World Mental Health Day, we collected it.
George Henry Armitage was born on 17 January 1898 in Stoke Newington, North London. According to a blog written by Phil, he doesn't seem to have had an easy childhood. George's father spent time in jail for watering the milk and was violent when drunk. He committed suicide by drinking poison in 1910 when George was 12.
On 17 November 1914, George joined the Territorial Force as a volunteer, signing on for 4 years. George served in the UK until 20 June 1916 when he was sent to France, where he served until 21 November 1916. George's brother Robert was also in the army and had been killed in action in France on 24 May 1916. Armitage was then part of the Anglo-French force who went to Greece in December 1916 to assist the Serbs.
George was transferred to the Durham Light Infantry in June 1917 and to the Labour Corps on 13 Feb 1918. He was promoted to Corporal on 17 October 1918 and discharged from the army on 21 April 1919, the cause being that he was no longer physically fit for war service (apparently due to tuberculosis). He received the Silver War Badge, which was awarded to soldiers discharged as a result of sickness or wounds. He was also awarded the British War and Victory Medals, which were given to all British soldiers who served in WW1.
George Armitage worked as a railway audit clerk and was also a notable amateur footballer for Wimbledon.
He joined Charlton Athletic in 1924 and went on to make 165 league and 17 FA Cup appearances until leaving in 1930 for Leyton FC. George was the captain of the team that won the third division south in 1928/29.
He played seven times for the England Amateur international side. His first cap was on 5 May 1923 (against Belgium) and his last was on 7 November 1925 (against Ireland). One of his best performances was in the Amateurs v Professionals Trial on 5 October 1925 at White Hart Lane which won him a full international cap for England (on 24 October 1925 against Northern Ireland).
One of those amateur caps has now been donated to the Charlton Athletic Museum where it will be on display.
The story ends on a tragic note and hence the link to Mental Health Day. George went to a sanitorium in Kent to recover from a bout of tuberculosis. He was depressed because of his illness and as a result, committed suicide by throwing himself under a train. He died on 28 August 1936 aged 38. The Times of 31 Aug 1936 included the following story in its Brief News section.
"Mr George Henry Armitage, 38, of The Drive, Beckenham, a former English amateur international footballer, was found dead on the railway line at Aylesford, Kent, on Friday. He had been a patient at Preston Hall Sanatorium near Maidstone."
This item was printed in the Kentish Times on Friday 4 September 1936.
RAN IN FRONT OF TRAIN
Depressed After Illness
Former Amateur International Footballer
The theory that a Beckenham man, a former English amateur international football player, depressed by his illness which was an aftermath of the war, ran in front of a train on the day of his discharge from the Preston Hall Settlement of the British Legion, was advanced at an inquest at Aylesford on Monday on George Henry Armitage, aged 38 of The Drive, Beckenham. Mr Armitage's body was found on the railway line at Allington on Friday.
RELAPSE AFTER MAKING PROGRESS
Mrs Elsie Joyce Armitage, the widow, identified the body and said the deceased went to the Sanitorium because he was ill with tuberculosis, probably an aftermath of the war. He made good progress and then had a relapse. Her husband was depressed and upset.
A benefit match for George's dependents was held on September 24th, 1936 at Leyton Football Club between Leyton and an Amateur International XI. The programme contained tributes from several members of the national press. Examples are :
"We all know George Armitage's abilities as a footballer - "the greatest amateur of the post-war decade" - I heard him described by a famous old player. Apart from these qualities, he had an extraordinary gift - some of us might call it genius - of making friends."
"Without any flourish of style he was the keystone in the defence of every team he played for and absolutely reliable."
"George Armitage will always be remembered as one of our great sportsmen. His remarkable ability as a footballer was there for all to see, but off the field as on, he scrupulously maintained the highest standards and truest traditions of British sportsmanship."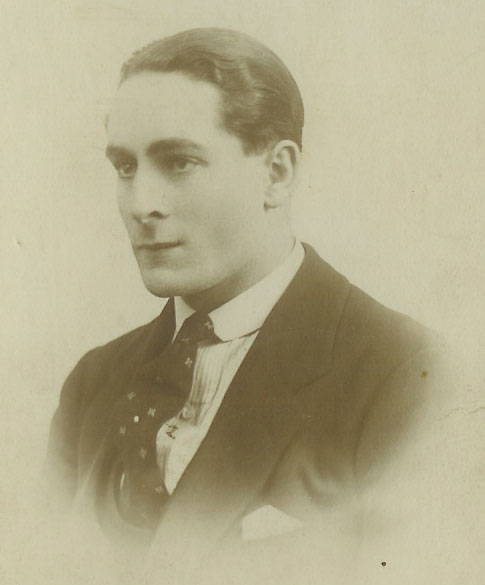 Thanks to Phil Taylor for the donation and for the blog from which much of this information was taken. Thanks also to all those that have supported the museum and so made this possible.
http://armitagefh.blogspot.co.uk/search/label/George Henry Armitage (1898 - 1936)
.