Hi all, this follows on from my blogs on
Italy
and
New York
. It is longer but it covers more matches and will explain some things that Andy Townsend and the like won't tell you. I hope a few of you enjoy this!
The Maracana is not just an icon of Brazil but of football itself. Situated in Rio de Janeiro's west, we all know of its reputation, the legends who have played there, the 1950 World Cup final which hosted 200'000 spectators. Lesser recognised here is its place in Brazilian domestic football. Home of Flamengo and Fluminense, Botafogo and Vasco da Gama also use it for their larger fixtures. Literally and figuratively it is the city's stadium.
In 2010 I set off backpacking in South America for four months. My first stop? Rio. As a holiday destination it surpasses most expectations, the city seemingly has everything – beaches, street parties, scenery, weather, friendly locals, marmosets in the parks, football. Step on the Copacabana and you'll see men and women of all ages practising their 'headers and volleys' skills. Take a favela tour and you'll see children showing off. The city lives and breathes
futebol
.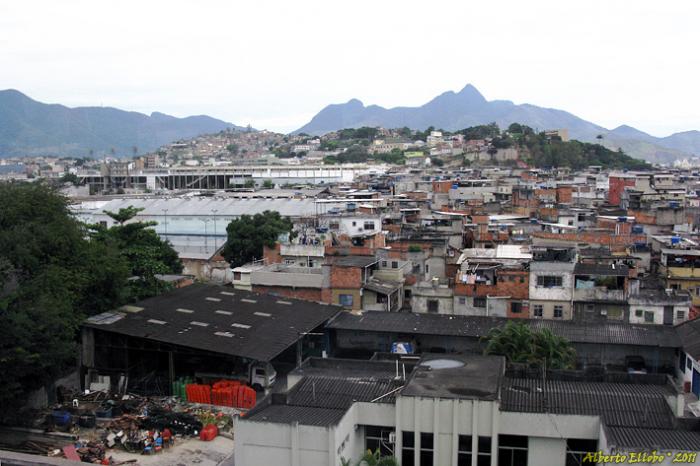 Vasco's Estadio Sao Januario on the left.
It is difficult to divide the city by its teams geographically. Flamengo are the best supported and draw fans from all parts of the region and beyond. Vasco are their fiercest rivals and hail from the northern slums – for those going to Rio, keep an eye on the hills on the right as you travel from the airport. Stuck in the middle of a favela (in 2010 at least), I have not seen a more intimidating ground for visitors. Fluminense are considered the rich person's side then Botafogo can be forgotten by some – left aside in Rio's grand derbies, their traditional area is near Sugar Loaf by the town centre. These clubs plus many more from Rio State also make up the local
Carioca
championship annually.
My first taste of Brazilian football was actually with Botafogo at the Olympic Stadium. As it's not wholly relevant I'll save details for perhaps another time. I'll simply say that fed up with South Americans confusing Charlton and Chelsea, they did enough for me to claim I was a Botafogo supporter when travelling. The next day though, saw Flamengo's season opener against giants Sao Paulo at the Maracana. With my own hostel organising tours, a large group going and me not having a caipirinha hangover for once, what could go wrong?
Not how you envisage the Maracana.
Nothing went wrong but little lived up to anticipation. From the outside the (old) Maracana is impressive without being imposing, many of its seats being below street level. The interiors were dusty and roomy, from there you could walk completely around the dry moat which lapped the pitch. Only non-alcoholic beer was on sale but I recall being impressed by the cigarettes on offer. Having been the temple of Pele, Ronaldo, Zico et al, I left some Akpo Sodje graffiti in the toilets.
Up until kickoff the stadium remained eerily quiet. Raining hard, had kickoff been delayed? No, the players emerged with no warm-up and without music. This was/is seemingly normal. With Flamengo in
Libertadores
action midweek, stars such Adriano and Vagner Love were also rested.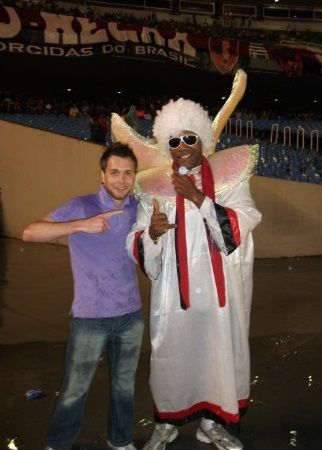 Expect close-ups of similar soon.
11'000 were there. Amid tropical downpours it was a damp squib, the hostel over-charged us and I was surrounded by American tourists. I asked my tour guide about the poor attendance and he blamed Mothers' Day. Really? Having seen dozens of red and black shirts around town I was disappointed, especially after my Botafogo adventure. Flamengo drew 1-1 draw and similar happened to me the next week at Sao Paulo's Morumbi – 11'000 were inside their 70'000 capacity ground to see them lose 2-1 to… Botafogo.
The new Arena de Sao Paulo will instead host matches.
So of my three matches in Brazil, only one had genuinely excited. The few Flamengo and Sao Paulo followers who did attempt to make noise were vibrant, had an array of tunes and were accompanied by some highly technical drumming. Honestly though, we have better atmospheres at The Valley. Brazilian fans were seemingly only worth anything if they actually bothered turning up, either all or nothing. Having booked my flight home from Rio, I thankfully had another chance to see the Maracana in its full glory.