Hi all, following on from the
article
describing my first visit to Italy, I've taken the time to detail my latest. This was a couple of weeks ago, despite checking out two other matches there was only one highlight...
Situated between Milan and Venice, Verona is most famous for being the home of Romeo and Juliet, its Roman amphitheatre and Lake Garda. Away from the tourists and fashion stores however, lies the Stadio Bentegodi.
Hellas Verona are one of the country's grand old clubs. Perhaps best known in Britain for Tim Parks' book 'A Season With Verona', since their miraculous Serie A triumph in 1985 they have fallen upon tougher times. Following exile to the third division this is their first season back in Serie A, though attendances in that time continued to dwarf those of neighbours Chievo. That was partly thanks to their
curva sud
, one of the peninsula's most notorious band of ultras. Vocal and always travelling in numbers, they are admittedly prone to occasional incidents of violence and racism. The latter can be traced to the city's right-wing roots.
I purchased my ticket in a tobacconist the day before. I love Italy. Although visiting Bologna and Carpi for other fixtures, I timed my trip so that Verona were facing one of their fiercest rivals. Chievo are an annoyance and Vicenza may eat cats but the cities of Verona and Bergamo share an ancient rivalry. Atalanta are Bergamo's club and they similarly have their share of troublemakers.
Having read 'A Season With Verona' in 2006 my walk to the Bentegodi fulfilled an ambition. Greeting me was a village of merchandise vendors and temporary food outlets, not burger vans but panini stalls. You likewise can't buy a programme, instead stacks of leaflets are left to provide team news. Many Italian grounds have these areas and they're used to meet and mingle, sip on beer or down the coffee liqueur Borghetti.
Being left to stagnate since the 1990 World Cup, the Bentegodi has seen better days. Hole in the floor toilets aren't helpful to those with a lactose intolerance either. Embracing the tradition of using free leaflets to cover dirty seats, any discomfort was soon dispelled as Atalanta's chants echoed around and were hastily whistled down. Strangely the ultras stayed silent. Were they on protest? Why is there a massive British flag? What kind of savages don't use toilet roll?
As the teams entered the pitch the curva erupted. Not quite deafening, but impressive. With the atmosphere ignited and the
gialloblu
flags flying, the match started evenly and saw opportunities for both sides. On 42 minutes German Denis deftly found an opening for Atalanta before chipping the 'keeper. 1-0 to the
nerazzurro
, further incentive for Verona's supporters to sing and sing some more.
This singing though, was odd. It's hard to explain in writing but Italian fans sound distinctive, they're melodic yet bouncy. These tunes were English. Constantly I was likening chants to Charlton's, banners are tied up rather than held, they don't care much for pyro and there was of course the huge Union Jack. With many considering themselves Veronese as opposed to Italian, I presume that this has been a move to distance themselves from other clubs. Rightly or wrongly a respect for the hooligan days of Britain also remains an influence.
So, 1-0 at half time. Purported Premiership target Jorginho had failed to show himself while veteran Luca Toni was often forced to battle solo. The second half saw Atalanta sit back and allow space but Verona found various ways to spurn chances. Like Charlton, they rarely do it the easy way. Looking to be one of those days, the curva responded with a rendition of The Tartan Specials' 'We'll be Coming Down the Road'.
Frustrations rose. As did my knowledge of Italian swear words. On 81 minutes though, the breakthrough. Another corner whipped in and Gomez blasted a header past Consigli for the equaliser. The curva surged, the roar probably audible from Juliet's balcony a couple of miles away. Game on.
Atalanta almost answered immediately. Caught napping, Verona very nearly said
arrivederci
to a point but Livaja found the side netting. Hellas promptly hit back, a lobbed through ball finding Cacia clean through and only one defender chasing. Twenty yards, sixteen yards, hauled down… Was that a dive?
Red card and a penalty, in the 86th minute. Tension always lengthens waits. Eventually Jorginho coolly converted and the comeback was complete. Again the centre's tourists were disturbed and Verona safely ran down the clock.
To my left 'You'll Never Walk Alone' was serenaded. This isn't overly strange, AC Milan have a version and Dortmund sing it before kickoff. I'm sure other clubs do too. However, I had never heard 'God Save The Queen' abroad. Already struggling to process the afternoon's excitement, this was the curva's choice to salute the team at the end, to say thank you with their scarves held high.
Thus ended an absorbing affair, the drama akin to a Shakespeare tale. Hellas Verona remain on course to stay up, at current they could even flirt with Europe. If only we still had the Anglo-Italian Cup…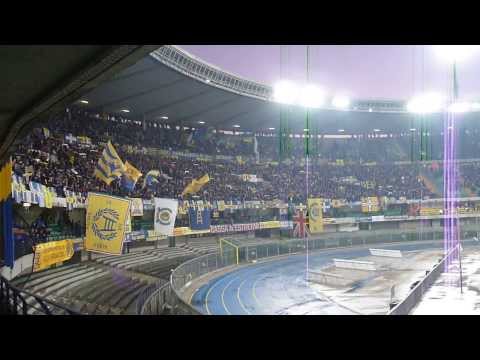 http://www.youtube.com/watch?v=zhswUMYE2Eo