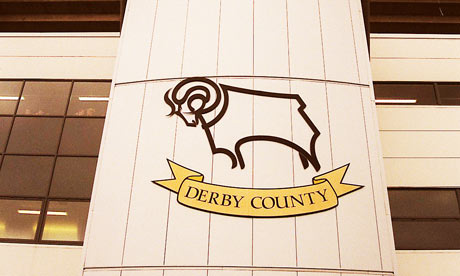 Club: Derby Count
y
Last Season Position:
12th in the Championship
Recent History:
In 2006, a consortium of local businessmen led by former Derby vice-chairman Peter Gadsby bought the club. Managed by Billy Davies, the takeover proved its point by helping Derby reach the Championship Play-Off Final and win the game 1-0 against West Brom. However, Derby were sent straight back down and the season also saw the resignation of Billy Davies and the appointment of Paul Jewell. Neither manager could prevent Derby suffering the Premier League's lowest ever point total.
Despite taking the club to the League Cup semi-final the following season, Jewell resigned as manager in December 2008 and was then replaced with Nigel Clough who subsequently has led the club to respectable Championship finishes over the last four years. Derby fans are hoping that this season can see them push on towards a play-off spot.
Manager Profile:
Nigel Clough is the son of ex-Derby and Nottingham Forest manager Brian Clough, one of the most successful and unique managers of all-time. As a player, Nigel played over 300 times for Nottingham Forest, where he played under his dad. Further on in his playing career, he played for Liverpool and Manchester City before finally ending his career at Burton Albion where he was to manage them for 11 years before moving to Pride Park where he has been for the past four years.
Summer Transfer Activity:
In:
Michael Jacobs ..... Northampton ..... Undis
Paul Coutts ..... Preston . .... Undis
Richard Keogh ..... Coventry..... Undis
Michael Hoganson .... Newcastle ... Free
Out:
Jason Shackell ..... Burnley ..... Undis
Paul Green ..... Leeds ..... Free
Chris Maguire ..... Sheff W ..... Undis
Miles Addison ..... Bournemouth ..... Undis
Expected Line-Up:
........................Fielding.....................
Brayford....Buxton....Keogh.....O'Connor
Hughes.....Coutts.....Bryson.....Jacobs
........................Ward.........................
.......................Robinson....................
Expected Tactics/Formation:
Derby are expected to line-up with a 4-4-1-1 formation with Jaime Ward playing just behind ex-Millwall striker Theo Robinson. New signing Paul Coutts joined Derby to replace Paul Green who left the Rams to go to Leeds. Coutts adds a lot of energy to the Derby midfield and he could be an instrumental player for the Rams this season. Jacobs will add a bit of creativity out wide and future prospect Will Hughes may start on the right this season.
What the Fans are saying:
The fans I asked on Twitter have mainly said that they want to achieve at least a comfortable mid-table position. One fan told me that they could "push for 7th or 8th if (they) can get a decent striker". I got the impression that the fans have a mixed opinion about Clough and this season could be one which decides his fate and for Derby fans hopefully it will be an exciting push for play-offs. The big thing in Derby's favour is that their academy is improving every year and that was shown when 16 year-old Mason Bennett made his debut for the Rams last season at the age of 15.
My Verdict:
I think Derby will struggle to get towards the top end of the Championship this season and may have to settle for another mid-table finish. However, if they can add a couple of experienced professionals within their side, they may be able to push towards the play-off spots.
Compiled by:
Stubley Addick