Thinking back to 25 years ago, it also marks the end of our 7 years of being football nomads. While this was a terrible time for the club, I will always have a soft spot for our spell at Upton Park, a much better ground than Selhurst, especially as this was when I became a regular, even if attendances were terrible. Standing on the North Bank, sitting in both tiers of the old main stand, standing on the South Bank when we were
away
to West Ham, I'm gutted I never stood on the chicken run to complete a full set of stands watching Charlton!
The 91/92 team is one of my favourite Charlton sides, a small squad but one full of great characters and excellent players, and led brilliantly by Steve and Alan! Was gutted when we had to sell Robert Lee at the start of the next season.
Picking a few "highlights"
1) The Anthony Barness own goal (from 1:50 onwards) still one of the best I've ever seen at a match. A 3-1 midweek defeat to Grimsby Town in front of 3,658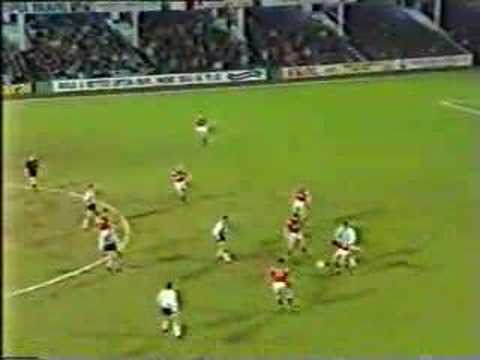 2) The 2-0 win over Leicester, when they brought so many fans down, some were escorted across the pitch to use the chicken run stand. Great goal by David Whyte (RIP)
3) Our final game there against Newcastle, a slightly forgotten landmark game in our history. A 3-1 defeat, with Robert Lee now playing for Newcastle, and Gavin Peacock scoring twice for them. Also memorable for the complete lack of segregation in the Main Stand which was full of Newcastle fans, probably more than Charlton fans in fact!
What other memories do people have?